---
Gallery Bershad's Favorite Places
in Davis Square
Somerville Area (click to view)
Davis Square Area
Restaurants & Cafes

Aquarium at Davis Square (Bar & Restaurant) 65 Holland St - (617) 623-5776
Blue Shirt Cafe - right in the square: wonderful international wraps & salads with organic ingredients, great fruit smoothies (with your choice of additives)- ; "vegetarian heaven" but they also have chicken & other meats
The Burren - 247 Elm St - Irish pub with a decent menu - poetry readings and lots of great music
Bertucci's - the first one! It is still great with great pizza - don't forget to order the rolls! - located on Elm street at the end of the shopping district
Carberry's Bakery - easily one of the top bakeries in the Boston metro area with great sandwiches and incredible breads & pastries - located on Elm street 1/4 block from the end of the shopping district (limited parking available)
Celia's Gourmet - 236 Elm St - (617) 591-1922 - wonderful deli menu items all made there with selections changing every day - great wraps and some of the best smoothies anywhere - vegan options every day -GREAT VEGETARIAN/VEGAN TOO






Denise's Ice Cream - right on the square, with some of the best ice cream in Boston metro (and that is saying a lot!) try the rum raisin or mango ice cream - who cares about the calories when it tastes this good!
Diesel Cafe - This place jumps all day and night, and they have decent food and great pastries - a real local hangout for students, professors, and artists- 257 Elm St - (617) 629-8717



Diva's - Wonderful Indian cuisine, with one of the best lunch buffet deals in the square - 617-629-4963 very veg friendly
Farmer's Market (May- October, Wednesdays ~noon-6pm; across from our parking lot)
Gargoyle's - The name may be Gothic, but the cuisine is all new American - a great bar menu for the late night option, and wonderful bar drinks - great dining (as good as downtown places that charge twice as much) make reservations! 219 Elm St - 617-776-5300 (alternate web information)
Johnny D's -The premier roots-music club in Boston - what isn't so well known is that the food there is great! come before 6:30 PM and the meals are half price! - 617-776-2004
Open for dinner, reservations highly recommended
The Joshua Tree -for those singles in town. 256 Elm St (617) 623-9910
Mike's - a Somerville classic Italian place with pizza and subs - a great place for people watching - located right on the square
Pembertons - not far from the square, a great place for deli and plants - a planting and landscape place with great organic produce and a wonderful kitchen - located on the corner of Mass. Ave. and Day Street, 2 short blocks out of Davis Square in Cambridge - with parking off of Mass Ave.- great vegetarian options and the best salad bar for lunch in the area
Picante Mexican Grill - Hot or not, your choice for great food! Wonderful people involved with the community who provide genreous catering for many charities, including non-profit fund raising events at our gallery. Some vegetarian options - 217 Elm St. (617) 628-6394
Redbone's Boston's most established real BBQ place that is still the best in the metro area for real, unaffected BBQ - an incredible beer selection and try out the specialty drinks! They are quite involved with the community and provide food for non-profit fund raising events at the gallery and strong financial support for Somerville Arts Council - We love these people - 617-628-2200
Rosebud Diner - a real diner and a huge variety of food with a full bar! breakfast through dinner, and the portions are generous - located on Elm at the end of the shopping district
Someday Cafe - been here the longest, and just at the end of the block from GB.
Starbuck's - where you can see more Gallery Bershad artists on the walls while enjoying your favorite coffee or chocolate drink and snacks.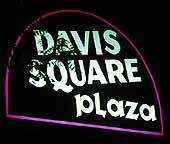 A more complete list of venues
Davis Square Lofts Slide Show
---
Click here for Boston area venues

---
©2000 legal notices