HOME (or click to refresh left-hand menu view to visit the details of this book's web site)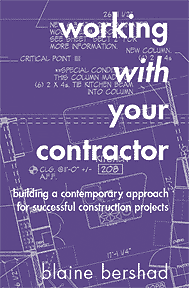 Secure credit card ordering via PayPal.com
WEB DISCOUNT
US $21.95 + shipping & handling

(Copy custom-signed by author
if ordered through this web site)

(ORIGINAL RETAIL $29.95)
---
HOME (or click to refresh lefthand menu view)
"For years I have floundered around dealing with one contractor and then another. This book explains what I need to know to better communicate with them. I am now more confident and more successful with this book by my side as a reference tool."
"The glossary alone in this book is worth the entire price of the book. It's a virtual encyclopaedia of building information in layman's terms."
"What a bonus it was to have all the online forms included with the book - construction specifications (CSI), budget, costing, checklists, punch lists
"Other books i saw on the bookstore shelf seemed to assume all contractors are dishonest or scams, and focussed on getting you out of bad situations. Bershad takes the opposite approach by coaching you to find a reputible contractor and helps you develop a trusting & professional working relationship so there will be no problems, and you'll be happy with the process and results."
"I thought I knew at least a little about hiring the services of building professionals-- boy, what I found out that I didn't know after reading about hiring contractors! Blaine Bershad is a great teacher!"
"Before reading WWYC, I was hesitant about embarking on a remodeling project. But now, armed with all this great information, I feel confident in how to find, hire, and communicate with a builder."
Almost all construction projects are "additive" in nature. Usually, rough construction for structure, plumbing pipes, electric lines, etc. all have to be in place prior to finishes being installed. If the finish isn't known during the rough construction times, certain finishes or details can become quite expensive to add to the project. Most of the time, a finish detail may require that a rough detail be accomplished in a certain way. If you are thinking about a specific finish and all of the related rough construction is not properly in place, this finish detail may be costly to transform into reality. Of course if the finish or detail is known ahead of time, this isn't an issue.
All contractors are project managers who coordinate labor and material to make a project complete, in accordance with the decisions made in the course of the project.

All contractors will accomplish the project on the basis of how they understand the project requirements and the tasks will be accomplished from this specific project planning. This means that the contractor will set up the project schedule and task list thinking about the individual talents of the people who will be doing the work. This also means that if you change the project requirements, you alter the tasks that have already been communicated.

It is reasonable to expect that contracting firms of similar size will accomplish the same project using different approaches. This is normal, and this variance in approach occurs with the most competent contractors.

Projects have a tendency to run for distinct time periods, and because contractors are human, life issues can have an effect on their performance over this period of time. Maintain contact with your project on a regular basis.

Communicate in writing as much as possible so that misunderstandings are minimized. Verbal communications on a project are dangerous, unless the project is quite simple or short in duration.

There are many different issues involved with a project. Be careful of making assumptions that things will be completed in a way that you have not clearly requested. There are many different ways to construct.
Includes:
Project priority lists
Specifications for a small project
Interview questions for Selecting a contractor
Contractor pricing breakdown
Project schedules
Decision lists
Site visit reports
Telephone report form
Project bulletins
Change orders
Progress payment forms
Punch lists
Liens
Webpendix(TM) Resources