CLICK HERE PROCEED DIRECTLY TO OUR
EASY TO READ INFORMATION PAGES
ABOUT WORKING WITH YOUR CONTRACTOR
- book just released
Introduction to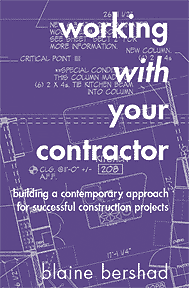 Working With Your Contractor
Hiring a contractor to do work is a normal part of living for most people. Some of us hire "contractors" for help in doing simple things like painting or cleaning, while others hire for more major undertakings. It doesn't matter how small the job is: if you don't follow certain basic guidelines, things will go wrong.
The first book in an informational series, Working With Your Contractor serves as a coach to help you through your home construction projects. By spending a little time up front in planning and researching your project and hired professionals,

you will be well rewarded by the satisfactory end result and a less stressful journey to get there.
The organization of these books includes much of what I have learned in the various roles I have been in: homeowner, contractor, architect, consultant. In Working With Your Contractor, the first two chapters address how you define what it is you want your contractor to build. The first chapter speaks to the importance of remembering time-- your time-- as part of planning & building the project. This is something that I find most people forget in the process of building something. The second chapter addresses how you can define your goals so you can communicate clearly what it is that you want the contractor to construct.

The chapters that follow are about the functional & logistical issues about working with contractors. Chapters 3 and 4 provide information about how all contractors work and the many different types of contracting firms. Chapter 5 shows a time-tested way to select a contractor. Chapter 6 is about how to have a decent agreement with a contractor. Chapters 7 and 8 are about how to work with a contractor during construction and how to handle mistakes (yes they will occur!) on your project. There is a large section for appendices that provides you with many samples and techniques.
We have created a special web site exclusively for owners of Working With Your Contractor. It's a new concept called Webpendix(TM), set up especially for readers to download more information and forms that are too cumbersome to place in the physical book and to provide documents that you can use directly or tailor for your project. The Webpendix awaits your exploration with a plethora of resources at your disposal to get you through your project more quickly and with fewer hassles.

ABOUT THE AUTHOR - I have learned many things from an array of varied and rich life experiences in the almost 30 years of my career as a successful architect, contractor, and developer, and have worked in a number of different capacities in architecture and development companies. I have owned my own companies for over 20 years, and I know that this has provided me with a much different perspective about building & design processes than most design professionals ever get exposed to.
As a contractor, I constructed many types of projects. Even though I started out quite small, in less than a year my firm had over 40 employees and large variety of construction equipment. We worked with a variety of different kinds of contractors, with large variations in the way that each contractor kept track of their work; we also worked with many subcontractors.
Working as a young, inexperienced general contractor was not all that different from what most owners experience when they start working with their contractors. I may have had a top-quality education in architecture, but I quickly learned that academic technical and design training did not prepare me for negotiating contracts, confirming schedules and specifications, or tracking the changes that contractors need to be paid for. Most importantly, I discovered that contractors spoke a different language than what I had been exposed to.
It became obvious to me that most architects and designers don't understand contractors' ways of speaking from a detailed standpoint. Fortunately, I had great teachers and I learned quickly because I had the good sense to treat these people with the respect that they deserved. I found out that most contractors were as proud of what they did for a living as I was about what I did. I also found out that you don't need to be able to speak a plumber's language, any more than you need to be able to speak a doctor's language -- you just need to make sure you are clear in what you are requesting.
I have written this book to share with you my experiences to give you the benefit of my hindsight. They say hindsight is 20/20, that must be why I don't need glasses!
Working With Your Contractor is not your typical guide to construction- here's how it differs to help you through whatever size of project you're embarking on:
Web Site for Book Owners: In addition to getting a physical book in hand with your purchase, you also gain exclusive access to the book's Webpendix(TM), a private web site that provides you with a wealth of usable information so that you can easily browse through the information. Download forms, specs, lists, tips, etc. that you can use as-is or customize for your particular need. Copying (for your own non-commercial usage) is encouraged! Hundreds of pages of materials are available to book owners via a password supplied with the book. It will be continually updated so you can have the benefit of the latest information.
Entire Project Overview: The approach for this book is that of an overview of the entire project. After reading this book, you will have the information as if you'd already been through a construction project, but having the benefit of hindsight.
Nuts & Bolts: Not only does the book provide you with the big-picture overview of contracting, it also supplies detailed procedures, forms, and contracts to give you a solid foundation and clarity on what to expect from and how to deal with your contractor professionals. This book is your personal coach ready to lead you through all the nooks and crannies.
Working "with" point of view: The author shares with you a team-effort point of view that has proven effective for all types of projects. You will see the importance of everyone interacting as a unit to achieve a common goal. This is a more contemporary project management approach as opposed to the traditional strategy of "hiring" a contractor.
Author's Background: Blaine Bershad has based this book on years of practical experience from the perspectives as a Contractor, Architect, and Home Owner
TABLE OF CONTENTS
The issue of time
The decision process
Understanding how contractors actually work
The different kinds of contracting firms
Selecting a contractor; interviewing & finding a contractor
Written agreements
Tracking the project: budget & time
Rules for working with a contractorProject priority lists
Specifications for a small project
Interview questions for Selecting a contractor
Contractor pricing breakdown
Project schedules
Decision lists
Site visit reports
Telephone report form
Project bulletins
Change orders
Progress payment forms
Punch lists
Liens
Webpendix(TM) Resources
Biography & Acknowledgements
Glossary
Index
Index excerpts:
allowances 22, 104, D - 2, J - 2, 1
arbitration 122
architects 16
assumptions 32, 119
Better Business Bureau 63
bid price 2
bonds 131
budgets not being followed 121
building codes 18, 37
bulletins 111, I - 1, 2
C of O (certificate of occupancy) 3
certificate of occupancy 106, 3
change orders 112, 3
clerk of the works 128, 3
communication during construction 107
construction documentation phase 21, 3
construction phase 4
construction phase in the design process 23
consumer protection 129
contractor 101, 4
contractor selection 54, C - 1
contractor's time 13
cost plus 4
cost-plus-a-fee 5
cost-plus-a-percentage 5
decision making process 135
decision matrix 5
decisions 2, 12
Department of Consumer Affairs 63
design build 5
design decisions 10
design development 20, 5
design process 2, 11, 15, 17, 6
design professionals 10, 15, 63
design-build 28, 56
design-build firms 44
disagreements 120
dishonesties 125
documentation 13, 136
elevations 6
evaluation forms C - 1
factual language 119
find a contractor more easily
foor plans 6
functional requirements 28
general conditions D - 2
goals 18, 136
Heating Ventilation and Air Conditioning D - 9
hold back monies in punch lists 105
home owners warranty (HOW) 130
HVAC (Heating, Ventilation, & Air Conditioning) 7
initial job meeting 101
installed allowance 7
insurance 42
interior designers 16
interview questions C - 1
invoices 113
job superintendents 42
job supervisor 62
liens 48, 7
limited partnership 45, 8
material allowance 8
mediation 125
mistakes 118
misunderstandings 118
motivations 33
negotiation 122
ordering materials E - 4
paper trail 136
payments 104
price, pricing by contractors 21
pricing breakdown D - 3
priorities 13, 135
priority lists A - 1
professionals- do you need one? 14
programming phase 18, 8
progress payment 9
progress payments K - 1
project 2
project bulletins I - 1
project goals A - 1
project managers 37
punch list 104, 9
referral services 57, 63
regulatory board 63
requisitions 113, 9
retainage 106, 9
schedule E - 1
schematic design 19, 9
scope of work 10
section drawings 10
selecting the initial group of contractors 57
set-back 13
site visit reports 110
specifications 10
specifications, example of where needed 22
structural elements 10
subcontractors 63, 11
substantial completion 106, 12
supervisor 62
suppliers 63
survey 18, 12
system elements 12
telephone conversation reports 111
time-and-materials 35, 12
transition assistance 13
unit price 13
waiver of lien 13
warrantees 130
Webpendix N-4
zoning requirements 18, 13